You are networking, pitching, dating or socializing plus super busy. You want to dazzle and make that great first impression.
Then QUICK FIX is for you.
Discover the clothing shapes that flatter your body, affordable styles that capture your personality and how to make them work for your lifestyle. Create sparkling first impressions and sublimely affect peoples' perception of you. Get people to admire your persona by fine-tuning your body language and communication skills. Look fabulous and radiate confidence with a Quick Fix.
Time: 3 hours
You want to feel confident and present your best, most authentic self and make people remember you, for all the right reasons!
Then it's time for an IMAGE REJUVENATION
Perfect your style and build a wardrobe that fits your personality, lifestyle, and body type. Discover the wow colors that go well with your skin tone and hairstyle.  Connect with trust to command attention. Fine-tune your written and verbal communication. Know the art of charismatically introducing and presenting yourself in public. Learn the hidden secrets of budget shopping with an Expert Shopper.
Time: 3 to 20 hours, as per your requirements.
Do you wear 20% of your wardrobe 80% of the time?  Do you end up searching for the right stuff for that big occasion and end up bellowing "I HAVE NOTHING TO WEAR?"
Streamline your style with a WORKING WARDROBE
Learn the art of mix and match, and smartly buy new outfits that fit and flatter. Maximize your current wardrobe with the art of clustering and accessorizing. Plan and shop cleverly for everyday outfits and as well as for ceremonial occasions. Weed out wardrobe orphans, clothes that you haven't noticed in your closet for over 6 months.
Time: 3 hours without personal shopping and 6 hours with personal shopping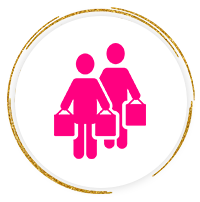 Outside of work hours family life takes precedence, your wardrobe is never on your priority list. Or you have never been inclined to fashion and style. Or maybe you dread shopping.
It's time to invest in our PERSONAL SHOPPER SERVICES
Discover your 'wow' style. Get image, fashion, and wardrobe clarity. Learn how to be a smart shopper and match fashion trends. Let an expert organize and create a functional wardrobe with stylish, elegant, and comfortable clothes. Know the tricks of clustering and accessorizing. With the Expert personal Shopper by your side, get that fashionable and perfect appearance.
Time: 3 hours to 6 hours as per your requirement.
What I loved most about these sessions is that it's not just about external appearance alone but inner strength, attitude, thought, positivity that brings out the best in you!
If you are struggling to find time or fed up wasting time and money, buying things or don't enjoy shopping or feel overwhelmed by all the choices available.
Try our ONLINE SHOPPER SERVICES.
Exploit the modern shopping experience. Get an abundance of easy to search shopping items, near-perfect price transparency, and a parade of special deals. It's super convenient with stress-free returns. You can do it at home or at work, without burning fuel or fighting the traffic. With an Expert Shopper by your side, have fun while finding, sizing, and filling up your online shopping bag.
Time: 2 hours to 6 hours as per your requirement.
Are you a big internet user, super busy, regularly traveling for business or leisure? You know your wardrobe needs to be enhanced and shopping is an overwhelming experience for you.
Then VIRTUAL CONSULTING is your magic wand.
Over emails and skype, get a personalized support from your Image Enhancer. Learn what works for you and what doesn't – saving you time and money. Get an inside-outside makeover, discover your personal style, and hone your communication skills. Naturally and effortlessly dress with purpose and poise. Maximize your full personal impact potential.
Time: 3 to 15 hours, as per your requirements
"I have always had to choose between two E's - Excuses and Efforts. I often Excuse myself and make an Effort."
Benaisha Kharas
Image Enhancer
You are a bride to be, or a friend or relative of a bride/groom to be, or you find shopping and even interactions at these engagements awkward?
Then connect with me as your own PERSONAL STYLIST for any occasion – big or small.
Clear the clutter, create new looks with existing pieces, and revamp your style. Do clever shopping with an Expert. Look your best with a personalized skin care regime. Manage your image and be more confident to interact with that special someone. Emotionally connect with new families and friends. Get insights on the etiquette of personal relationships and cultures. Shine and enhance your image.
Time: 6 to 15 hours, as per your requirements.
You are aware that your image effects peoples' perception of you, and more importantly how you feel about yourself. You want to project more confidence and charisma.
Then sign up for THE MIRACLE IS WITHIN YOU session with me.
Through personal coaching get clarity, embrace creativity, re-engineer internal dialogue, heighten your confidence, project your authentic image, and enhance to your best new version. Understand your own and others' emotions and how they affect us. Discover strategies to maintain positive and calm feelings. Create more 'Blooming Moments' and manage your image effectively. Personalized consulting sessions are available for women, young adults, and kids.
Time: 3 – 6 hours, as per your requirements.